When I was a child, my grandfather used to practice math with me using a deck of cards.  He would lay out four cards, and we'd race to see who could come up with a way to make 24 first using basic arithmetic. It never hit me that this might be a cultural game until I told a friend of mine to use it with her math-disdaining daughter, and she stared at me with a confused look.
One thing led to another and we found a plethora of wonderful games from around the world to keep you kids (and your) brains sharp.  Best part is they cost just a few pennies to play (literally).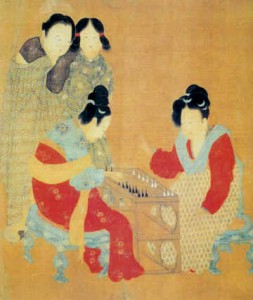 Achi  - Ghana,  2 players - ages 4+ 
This Ghanaian game gets your little ones thinking about strategy like children have been playing for thousands of years.  A similar variation game was found in Hadrian's Wall in Northern England and Italy.
Ingredients for Fun: Achi board (print out below or draw your own), 4 dimes, 4 pennies
Instructions:
Choose who gets to go first. Player A takes a dime and places it on an empty circle.
Player B take a penny and places it on an empty circle.
Take turns until all your coins are on the board.
Take turns sliding your coins into an empty circle.
Whoever manages to get 3 of their coins in a straight line wins!
Tchuka Ruma -Indonesia, 1 player - ages 7+ 
This game is a traditional Southeast Asian staple with details of this game being played in the Philippines, Malaysia and even Russia.  This is a good game to show the kids how to play and then let them venture on their own.  It teaches them to be strategic but independence and perseverance.
Ingredients for Fun:  Strip of paper (23 cm x  10 cm), marker, 8 pennies
Mark a line on the strip of paper every 4 cm so there are 4 squares and one large rectangle.  Write "Ruma" in the last, big rectangle.
Place 2 pennies in each of the first 4 squares.
Pick up the pennies and drop them, one in each square into the next squares including the Ruma.
Continue trying to move all the pennies into the Ruma.  Be careful though!  If you end up having to drop your last penny into an empty cell, you lose the game!
24 Points  - China, 2+ players - ages 7+ 
Originally from Shanghai, this game is rather basic.  You only need a deck of cards.
One player lays out 4 cards, and every player tries to think about ways to create 24 using basic addition, subtraction, multiplication and division.
The player that comes up with a correct solution first wins that round and takes the four cards.
The goal is to have the most cards at the end of the deck. NOTE: There will be some hands where a solution is impossible.  In these cases, it is okay to take one card off and replace it with another from the deck.
These games are great conversation starters with your kids about different cultures while also providing them with a mental workout.  Playing games is a good way to facilitate learning, particularly when it comes to more abstract strategy. Skip the television tonight and try one of these ways to entertain your kids while sharpening their minds. Margaret Mead once said "children must be taught how to think, not what to think" and with these games you can equip your children with a ready mind.